Writings
Michael Brecker Is Inducted into the Downbeat Magazine Hall of Fame
2007
Michael Brecker is inducted into the Downbeat Magazine Hall of Fame – by Pat Metheny
********************************************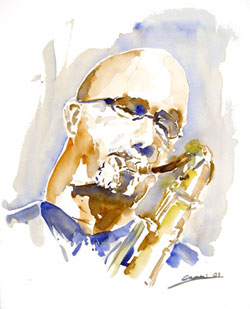 Mike's induction into the Downbeat Hall of Fame is a fitting tribute to the life of one of the great musicians of the modern era.
Mike was among the first in a generation of post-1960's players working hard to keep the inclusive and expansive vitality of jazz at its best alive. He did this by truly reconciling a relationship between the language and spirit of this music with the turbulently changing culture at large that surrounded him.
While some floundered in the expanse of endless possibilities offered in this new and wildly varied terrain, Mike actually chose the most difficult path of all.
He did everything. He toured with Horace Silver, worked with the major pop and rock musicians of his day, did studio work, played endless gigs and sessions with his peers from all across the stylistic spectrum and formed an innovative response to the jazz-rock of the time with his brother, the great trumpet player Randy Brecker. Quickly cementing his status as the music world's tenor player of choice as evidenced by his participation on literally hundreds of recordings of all styles, Mike used this rich period of activity as a research platform to investigate a wide swath of the sounds of his time with a diligence that is unique.
He embraced music in the largest sense and began a lifelong quest to reconcile his ecumenical sense of what jazz could be with the reality of the circumstances that he placed himself in. The risk of taking this path was offset with the glory that stands in his wake.
He always sounded great. Having him on the bandstand or in the studio in any situation wildly increased the chances that the music would get to someplace special. And he was able to forge a natural and organic connection between his advanced skills as one of the most highly evolved jazz musicians of his time with the on-the-ground realities of whatever the musical setting at hand required with a remarkable consistency.
Throughout this developmental period, Mike set a new standard for harmonic ingenuity, rhythmic power and technical fluency that remains the state of the art to this day. While his influences were apparent, from his earliest recordings there were things going on that immediately made him stand apart.
There was an immediacy to his magnificent and gigantic sound on the instrument and a melodic memorability to just about everything he played, whether complex or simple, fast or slow. But the most important quality that put him on a different plane was the communicative and spiritual qualities that he invoked as one of the most powerful soloists in jazz history.
Though many players come up with idiosyncratic and esoteric angles to individuality that are often fashioned to distinguish them and signify their distinctive musical personalities, the lasting impact of genuine, deep content always wins over time; even if Mike delivered it with an apparent but hard earned ease that often went right over the heads of his far less sophisticated critics.
By the time Mike finally felt ready to make his first record under his own name, he was nearly fifteen years into his career and already the major and most influential tenor voice of his generation.
The humility represented in this choice speaks volumes to the deep humanity that Mike was able to draw from - the source of which gave his music so much power and grace.
Mike was sort of a harbinger of what has come to be expected of modern jazz musicians - a master player addressing music in the largest sense, who is offering music in terms that don't necessarily need to have much to do with a single particular playing style or genre.
A jazz musician who defines what jazz is by pushing it hard, challenging its borders, and ultimately transcending it.
Since Mike came on the scene, saxophone players and just about everyone else has had to address the fact that there was someone on the planet who carried that degree of pervasive fluency. And while being blinded but the almost overwhelming eloquence that embodied the top level of Mike's thing, the message that was the subtext of just about everything he played may have been overshadowed.
Mike was someone who reported on the times with a finesse and expansive range of expression and soulfulness whose sound will allow people in the future to imagine what the years of his life were actually like. Although his connection to his predecessors was obvious, he didn't overtly play in a way that endlessly referenced other eras,
He poured a lifetime of study and an abundance of natural talent into describing the things about music and life as he saw it right in front of him that he found to be meaningful. In his quest to communicate, he offered his own heartfelt sense of what it was to be human.
Since 1952, Downbeat readers have previously nominated 5 tenor saxophone players to this Hall of Fame. They are Lester Young, Sonny Rollins, John Coltrane, Dexter Gordon, and Stan Getz. Each of them somehow defined in the most iconic way, the sound of jazz for their time. Add to this list, Michael Brecker.