Writings
Tribute to Michael Brecker (1949-2007)
2007
Here is the text of Pat Metheny's talk at the memorial service held for Michael in New York's Town Hall, February 20, 2007. Also speaking and/or performing were Sam Brecker, Jessica Brecker, Susan Brecker, Randy Brecker (w/Joey Calderazzo, James Genus & Jeff "Tain" Watts, David Liebman, Darryl Pitt, James Taylor, Herbie Hancock (w/John Patitucci & Jack DeJohnette) and Paul Simon. The event was a celebration of Michael Brecker's amazing life. More than 1600 people were in attendance.
The cure for many life-threatening blood diseases such as lymphoma, leukemia and MDS already exists – it's us. Raising funds to pay for the testing of more donors is crucial. Time is of the Essence, a fund created in Michael's honor, will help make this possible. 100% of all donations are used for testing new donor registrants. Please-make a tax deductible donation today. Call 1-800-627-7692 or go to www.themarrowfoundation.org.
Here are Pat's comments.
********************************************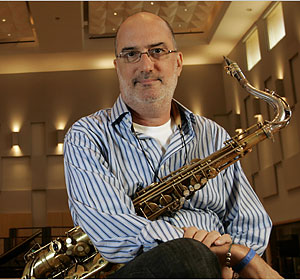 The piece I just played was written many years ago, especially for Mike. We played it together lots of times.
It was called Every Day (I Thank You).
Somehow those words have an extra special meaning today.
We all have so much to thank Mike for.
Music was, of course, what gave me, and probably many of us here today, the chance to know Mike, through music. In my case, first as an admirer and then as a collaborator.
I have often mentioned that the most treacherous location in the jazz world was to be on a bandstand as the guy who has to play the solo right after Mike Brecker.
I was lucky to have been in that situation many times over the years, and I learned so much from Mike on so many levels, as all of us who ever had the good fortune to play with him always did.
There's been, from the very earliest days, so much to talk about Mike, the musician.
There's just the whole thing about the way he played. It was just so amazing to hear somebody play like that. Every single time.
For musicians, there are hundreds of nuts and bolts things going on there to marvel at, to study, to learn from, to enjoy. Things that have literally set the bar for all of us in so many areas over the past 35 years, as they will for future musicians for countless generations to come.
In many ways, I think at various points everyone was so blinded by the brilliance and ingenuity and strength of this guy, coming along with perfect time, who had found another 150,000 ways to navigate through any given set of chord changes while simultaneously displaying a level of saxophone technique and a sound that seemed almost superhuman.
So many things in action there in fact, that the deepest treasure of Mike's amazing gift was sometimes hard to pick out in the wealth of all of it. Because even with all of that, the real thing that made Mike so special as a musician, as a player, was his incredible ability to communicate what it is to be human. The complications of it. The struggle of it. The joy of it. To manifest a sound that could describe things about what it is to be here on earth that everyone, musician or not, could feel and recognize as being true.
That is the rarest thing.
His communicative skills were evolved far beyond any particulars of any given style of music, or the advanced level of technique that he possessed, or the assimilation of his influences, or even music itself, as it turns out.
Because the thing underneath it all was this;
Mike had a way of connecting with people in every important human transaction, that was kind of the fundamental currency that in turn gave his playing and his music the illuminating quality that made him stand so apart.
In retrospect, the diligence that he applied towards music was simply a symptom of the transcendent quality to touch people deeply that was pervasive in so many aspects of his life.
I know that for me, my interactions with Mike over the years all retain an almost indelible quality in my memory that is very unique. From the smallest moments, to the biggest concerts, somehow I remember everything about being around him in such detail.
In the past several years, during his fight, and in particular in the weeks since his passing, the outpouring of love for Mike has been so bountiful, so beautiful.
It's notable how in almost every description of an encounter with Mike, no matter who is talking, you can feel the person reflecting on those minutes, or hours or months or years that they were around him as being among the best moments of their lives.
Mike really paid attention. And in his quiet and gentle way, he noticed and appreciated all the things that make each one of us around him exactly who we are. It seems that he had that gift with just about everyone he encountered. And as musicians, he saw and brought out the best in all of us. Musically, and maybe more importantly, in every other way too.
The timelessness and weight of Mike's contribution may ultimately be traced in equal measure to the humility that he naturally and effortlessly carried with him at all times. Mike's ability to make every person in every room feel like a valuable and genuine peer – especially given the incredible skills and accomplishments that he himself possessed – really put him in category entirely of his own.
Last summer, Mike was well enough to finish a new album. By that time, his fight had been an ongoing battle for more than two years and Mike had not been able to physically play for most of that time.
What happened in the studio during those few days in August is almost impossible to describe. It's one of the most amazing, powerful, unbelievable things that I, and all of us who were there, have ever seen, or ever will see.
We just finished mixing and mastering the record a couple days ago and in a little while here you will hear a brief fragment of it. You'll hear right away what I'm talking about.
Mike just left us some of the greatest music of his career. Of his life. And his efforts to get this final message out to all of us – which is really what it was – a message – will go down as one of the great codas in modern music history.
It is said that the best way to honor someone who has left us is to try to emulate their best qualities in the way that we live the remainder of our own days.
May that start here with all of us today.
We'll never have a better model than Mike about what it is to be here on earth, and how to live our lives.
Along with Susan, Jess and Sam, Mike is a hero for all of us.