Missouri. For me, as a kid growing up there, it was a place to dream. A place to sit out in the backyard and consider the possibilities of life and music while practicing as many hours as I could stay awake, staring out into those vast, midwestern spaces. But as much as I loved it there, it was also filled with a restlessness and curiosity about the whole world that I knew existed beyond that Missouri sky.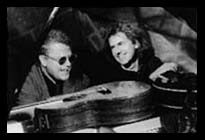 Charlie and I both grew up in small towns in Missouri, me in Lee's Summit, and Charlie, about 18 years earlier, down in Forsyth, about 100 miles due south, off highway 71. Whether or not that coincidence of geography has played a part n the rapport that Charlie and I have developed in our years of playing together, I don't really know. But I do know that we share a lot of the same aspirations about what music can be, and especially the open attitude and curiosity that I believe we've both retained from growing up as musicians who filled the hours of our formative years dreaming about music out there in the heartland of America.
Chart a has been a huge influence on me as a musician and as a person. As everyone knows by now, he is simply one of the greatest improvising musicians ever, and his bass playing has set the standard for what is now several generations of musicians. With Charlie, I feel like I can play anything. Style is not an issue, because whatever the material suggests, Charlie will reinvent it to make it his own, at the same time providing the music with the fundamental elements it needs to become truly profound. That quality, found in only the greatest musicians, continues to be absolutely inspiring to me.
It was an honor to be asked by Charlie to make this record, For me personally, this is one of the most special recordings I've eve, been a part of. When I listen to this music back now that we've finished, I realize that this is music that could only have been made with Charlie. He set a tone and a spirit that was all about inspiration and that spoke directly to all those early dreams I had about what it might mean someday to be a musician. Thank you again, Charlie, for yet another fantastic musical experience.
Copyright 1997 - Pat Metheny Group Listener Network - PM Tours, Inc.
All Rights Reserved