I first met Pat Metheny almost 25 years ago in 1973, I was in Miami, Florida playing a concert with Ornette Coleman when Pat, who would have been about 18 at the time, introduced himself to me. Over the next few years, throughout the mid-70's, we would sometimes talk on the occasions when we would play concerts opposite each other during Pat's stay in Gary Burton's band, and mine with Keith Jarrett. It wasn't really till 1980, however, when he asked me to play on his album "80/8l" and the extensive touring that followed it, that we became the close friends that we are today. Since then we have toured, played and recorded together in lots of different contexts; from Ornette Coleman to Michael Brecker to Abbey Lincoln and many others. When Ruth Cameron and I were married in 1989, Pat was my "best man". Ruth and I really feel like he is part of our family.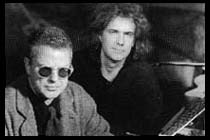 Pat and I have talked about making this duet album for many years and now, finally, we've taken the time to record it. I have always admired Pat's musical vision. His melodies, chords and voicing are unique unto him. He is an innovator in the sound he gets, as he is in his composing and improvising. He has a rare gift that enables him to communicate the harmonies and melodies he hears in a way that reaches all different kinds of listeners, while always retaining the kind of depth and beauty only found in the best improvised music. His musical presentation is always beyond category, and his sense of the sound in music that comes from the feeling of this country is uncanny. Of course he is from Missouri, as I am, which surely has something to do with it. I call his sound, "contemporary impressionistic americana".
Pat wanted to do a completely acoustic album. My feeling was that this would limit the possibilities of what a true collaboration between the two of us could be, given the range of music that we are both interested and involved in. I wanted to do something that would obviously include straight duets, but would also include the more expansive, use of modern musical instruments and the recording studio itself, which I have admired as a trademark of Pat's own records for many years. I have been saving songs for this recording for some time now. Some are songs that would obviously function well as duets, but some are songs where I could imagine an almost orchestral approach, using the various additional guitars and synths that Pat has managed to incorporate so naturally and organically into his sound.
In the end, I think we have come up with an interesting hybrid. We recorded all of this music as a straight duo, then, on about half the tunes, used the material that was suggested in the duets themselves as starting points for some subtle additional orchestrations to fill the tunes out; sometimes a single extra acoustic guitar, sometimes more involved synclavier orchestration, but always in the service of, and derived from, what we actually played.
Our criteria for choosing songs were simply to find beautiful melodies and chords that inspired us. At the beginning of the protect, I sent Pat a cassette of four songs I had been thinking about for this record to inspire him and to give him an idea about what kind of record I wanted to make. He called me back right away to say that he loved all of the songs, and in fact, we went on to record them all, They were : "The Precious Jewel", a song made famous by the Delmore Brothers, a group whose harmony has influenced all of country music from the 30's to the present and whose music has had an enormous influence on my life; "The Moon Is a Harsh Mistress", a Jim Webb song that Joe Cocker played for me many years ago; a Jo Stafford/Paul Weston version of "He's Gone Away", an old folk song that my mother used to sing on our Haden family radio show in the 40's under the title "The Railroad Man"; and the Main theme from the film "Cinema Paradiso" by Ennio Morricone. I also had two of my original compositions, "Our Spanish Love Song" and "First Song" in mind, and a brand new piece, which I also composed especially for this album that I dedicated to my wife, called "Waltz for Ruth".
Pat and I both liked one of my son Josh's songs called "Spiritual", which he recorded with his group Spain on their album "The Blue Moods of Spain", so that was naturally included. Pat contributed two of his compositions, "Message to a Friend" (which he says was written while thinking about me) and a brand new composition written just for this project "Tears of Rain", with it marking the first time he has recorded with his new acoustic sitar/guitar. Pat also suggested Henry Mancini's great composition "Two for the Road", and the "Love Theme" from "Cinema Paradiso" written by Morricone's son, Andrea Morricone. Making the album complete is "The Moon Song", a new Johnny Mandel song that has never been recorded until now.
I really want to thank Pat Metheny for all the hard work and dedication he put into making this music very special and beautiful. I also want to thank my wife Ruth for all of her creative inspiration, insight, and feedback throughout, Jean-Philippe Allard for believing in my music, my son Josh for his great song, and my daughters Rachel, Petra and Tanya for their great ears.
I hope everyone enjoys listening to this music as much as I enjoyed making it. It was a labor of love.
Be sure to visit Charlie's Web Site.
Copyright 1997 - Pat Metheny Group Listener Network - PM Tours, Inc.
All Rights Reserved