UNITY BAND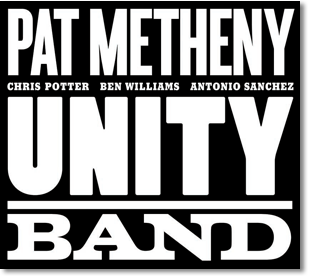 With Pat Metheny, you simply never know what is coming next. But among the many things that make this ever-changing artist so special is the consistent level of commitment and quality that he brings to everything he does.
Whether purely acoustic or searingly electric, powerfully intense or deeply contemplative, highly composed or totally improvised—or even with some new-fangled contraption of his own design—there is always that unmistakable Metheny sensibility at work that has stood at the forefront of music for what is now approaching four decades.
After two consecutive yet wildly different solo recordings, (the innovative Orchestrion and last year's Grammy-winning baritone guitar outing What's It All About), Metheny returns with a quartet record, Unity Band.
For the first time in more than 30 years, Metheny features a tenor saxophone in the front line. The last, in fact the only, previous Metheny-led record to feature a horn player was the iconic and influential ECM recording 80/81, which brought the guitarist together with two saxophone titans, Dewey Redman and Michael Brecker.
Metheny says, "Even at the time of 80/81, it was hard to believe that I had gone a few years into my career without having made a traditional jazz quartet record yet, since that was an environment I had played in so often. In many ways my bands were envisioned as an alternative to the more conventional kinds that I had come up playing in. The fact that it has taken another 30 years to get to it again is kind of a testament to how busy those 'alternative' ways of thinking have kept me.
"Also, I have really enjoyed the associations that I have had on the projects of a bunch of really great saxophone players. 80/81 set the stage for the five subsequent recordings that I made with Mike (Brecker), then Josh Redman came along and we did his record Wish and a bunch of touring; Kenny Garrett and I did the Coltrane record, I did a couple of interesting dates with David Liebman and Gary Thomas, and I played at various times live in different projects with David Sanchez and Donald Harrison. And of course, the project with Ornette Coleman, Song X."
"But for my own thing, after 80/81 I just couldn't seem to find exactly the right person who would take it from where that started to the next place I wanted to go with that sound and that kind of writing. We all always talked about revisiting that band at some point, but with both Mike and Dewey gone now, that will never happen".
So what got Metheny to the point of wanting to return to a tenor/guitar combination at this point in time?
"Simple. Chris Potter! As a fan, I have watched as he has become one of the greatest musicians of our time, and when we were both invited to play on Antonio Sanchez's debut record, I immediately saw that we had a natural way of playing and phrasing that suggested something more. I started thinking right then of somehow building a project around that."
Metheny continues, "I just can't say enough about Chris. There are so many levels of excellence going on there. His versatility is staggering, he gets a great sound on all the instruments in all registers. But his ideas and execution and flow as an improviser is really at a level that I have rarely seen before. I have often commented that Gary Burton and Ornette Coleman were two guys I played with who really stood out for the way they seemed to be bottomless pits of ideas in their own respective ways. Chris rivals that to me. He can just go on and on, deeper and deeper, and all with that amazing sound. He is one of the greatest musicians I have ever been around".
If that pairing was the genesis of the idea, how did the rest of the band come together?
"I got a very enthusiastic response from Chris when I suggested this idea to him. So next it was a matter of deciding on a rhythm section. I thought about a lot of different combinations and directions we could go in with guys. In a lot of ways, Antonio was kind of an obvious choice; he has been one of my closest associates over the past ten years and has also played a lot with Chris. But I never take Antonio for granted. He is such a special musician and it has been great to see his development up close. He really is a remarkable drummer; there is no one else like him. There was a certain kind of power I knew that Chris and I would be getting to and I can't think of anyone who could take us to that place better than Antonio."
And what led the guitarist to bassist Ben Williams?
"A few years ago, Christian McBride invited me to an event that he was leading with the jazz students at Juilliard. Ben was featured on a few tunes and I had that rare feeling of hearing someone that has something special to say. I used Ben a few times to sub for Christian with the trio and found him to be a great playing partner and a great person too. He and Antonio had an instantly effortless rapport. Ben has a fearless and open-minded approach to what music can be, which made him perfect for this band. I really enjoy playing with him and he was fun to write for too; his whole vibe suggests something to me. He has more than a little bit of Jaco's (Pastorius) melodic influence in his playing. Finding guys who can play great melodies has always been hard, and Ben has natural way of using space as well as being able really get around the instrument; a wonderful combination of skills. After winning the Thelonius Monk competition a few years ago he has become more and more in demand. I am very happy to have him in the Unity Band."
With the band in place, what was the next step?
"Once I had assembled this stellar cast, it was a matter of coming up with music for us to play. It's funny, I have heard so many guitar/tenor records that have been clearly influenced by that 80/81 sound, and yet I really wanted to try to take it to a different place this time, although that record would certainly be a reference point along the way. One of Antonio's specialties is this even eighth-note thing he does, and in a lot of ways that set a direction for the writing. But still, this is a group of musicians who can do just about anything. In the end, leading up to our first get together, I wrote a lot of new tunes for the project; we tried them all and recorded nine of them. The strengths of the band became clear as we went along , which really focused us."
How did the name "Unity Band" come to be?
"The area where I grew up in Missouri is the home of Unity Village, the world headquarters for the Unity Church. Although I personally am not a member, the connection between the Fillmore family that founded Unity and my family goes back almost 100 years. There was a Unity Band that performed every Sunday evening in the summers when I was growing up. My dad played in it when he was young, my older brother Mike was a featured soloist starting at a very young age, and I even played (French horn!) in the band for a few years."
"This Unity Band was initially organized to do a whole bunch of summer concerts during this upcoming summer (2012), so the idea of playing music in a summer setting and my memories of the original Unity Band summer concerts of my youth made a mental connection somehow, which is what led me to that name. And, I have to admit, somehow, in these times, "Unity" is an especially good word to get out into the world."
"But beyond that, the principles of what the word 'unity' implies have always been strong for me. Part of what makes America and the music that has come from here unique is the fundamental reality of our society as a melting pot of the best of so many cultures and peoples from all over the world. But also on an aesthetic level, as much as people have invented arbitrary marketing terms like 'jazz' or 'fusion' or whatever the next one may be, the undercurrent of my musical life has always been one of reconciliation and unification of all the sounds and ideas that I love as one big singular thing.
"This band is a real manifestation of that spirit. We are using all of the unique qualities available to us as individuals and as an ensemble and, we hope, creating a greater whole to make something true to itself. From the stylistic range of the music presented, which is sort of all over the map, to the instruments used—from acoustic to electronic to even robotic on the Orchestrion track—to the spectrum of peoples we represent as individuals, there are a huge variety of elements to set in motion. But at the same time there is a continuum at work that connects to the other things I have tried to do as a leader and composer, and where the other guys are coming from too. Unity Band seemed to be a perfect name for this project."