News
The Stories Behind 80/81
11.1.2013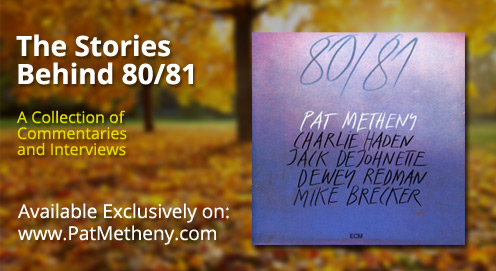 A Collection of Commentaries and Interviews
Featuring Pat Metheny, Charlie Haden, Jack DeJohnette, and Joshua Redman

Long considered one of the essential Metheny recordings – not to mention an important part of any music collection – 80/81 continues to hold its stance as a pivotal recording for composition, artistry, and improvisation.

To help you dive a little deeper and get more perspective on the inspiration behind and making of 80/81, we've put this this collection of interview and commentary outtakes together. It includes input from Pat and others, stretched across PMRadio, a Podcast, and two special commentaries by Pat and Joshua Redman.

Give them a listen and share your thoughts with us here, in the Garage, or on Facebook.

- The Metheny Web Masters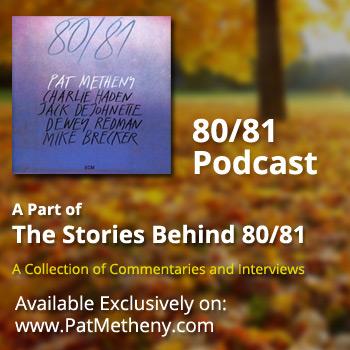 Podcast

"I just loved all four of them [Charlie Haden, Jack DeJohnette, Michael Brecker, and Dewey Redman]. They were kind of all my favorites in a way. And that was what got me writing the music for that record …was just hearing their sounds in my head." Recording 80/81 "was just an unbelievable experience… a really magical recording session that, for at least a couple of us, was life-changing. I know that Mike Brecker always talked about that record as for him, there was 'everything before 80/81 and there was everything after 80/81.'"

Catch the full podcast.
Commentary: Pat Metheny

"…In terms of the composition itself, it's got a couple of things about it that I've done a lot of work on to try to write tunes that have different sections and different tempos, that compositionally have a kind of development over a form that's not necessarily just a straight song form. The blowing is on a kind of a different form than the melodic material.. But, all of that is kind of nothing compared to the emotional weight that I think Mike brought to the way he played the melody." Pat shares his thoughts on saxophonist Michael Brecker and his performance on "Every Day (I Thank You)" from 80/81.

Listen to the full interview outtake, recorded with Pat in early 2011.


Commentary: Joshua Redman

""One thing that I really love about the way my Dad plays, these fast burning, free tempos. He manages to convey tremendous velocity, and intensity, and energy without playing strict eighth note time." Saxophonist, Joshua Redman Reflects on his father's performance on 80/81 and approach to solos.

Listen to the full interview outtake, recorded with Joshua in March, 2011.


Comments
4 Comments
You must have an account and be logged in to post comments: Log in or join.