Music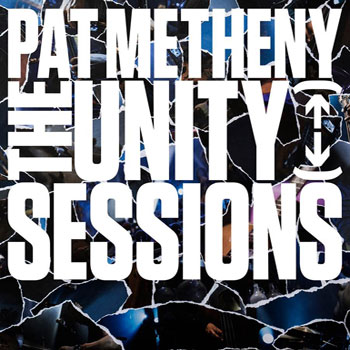 Tracks
Adagia

Sign of the Season

This Belongs to You

Roofdogs

Cherokee

Genealogy

On Day One

Medley

Come and See

Police People

Two Folk Songs (#1)

Born

KIN

Rise Up

Go Get it
2015

The Unity Sessions
Label:

Nonesuch
Musicians:

Pat Metheny, Chris Potter, Ben Williams, Antonio Sanchez, Giulio Carmassi

The Unity Sessions is taken from a filmed performance with Pat Metheny Unity Group that was recently released on DVD; the set comprises 13 songs by Metheny, one he co-wrote with Ornette Coleman, and one well known standard by Ray Noble.

In 2013, for the first time since 1980, Metheny recorded with a band that highlighted tenor saxophone. The resulting Unity Band, which went on to win him his 20th Grammy Award, featured Chris Potter on sax and bass clarinet, longtime collaborator Antonio Sanchez on drums, and Ben Williams on bass. Metheny then took that same ensemble into new territory with the addition of his Orchestrion and a focus on more through-composed material and christened the ensemble Pat Metheny Unity Group. The Group's first record, Kin (←→), was released by Nonesuch in 2014 and was named the best jazz album of the year in the DownBeatReaders Poll Awards. The Group went on a world tour of more than 150 cities; at the end, they hunkered down in a small Manhattan theater to film new performances of music from the original Unity Band, the expansive Kin(←→), and touchstones from the entirety of Metheny's music catalog. The results were released on DVD last year as The Unity Sessions, and now Nonesuch releases the album of the same name.

Over the course of more than three decades, guitarist Pat Metheny has set himself apart from the jazz mainstream, expanding and blurring boundaries and musical styles. His record-setting body of work includes 20 Grammy Awards in 12 separate categories; a series of influential trio recordings; award-winning solo albums; scores for hit Hollywood motion pictures; and collaborations and duets with major artists like Ornette Coleman, Steve Reich, Charlie Haden, Brad Mehldau, and many others. His band the Pat Metheny Group, founded in 1977, is the only ensemble in history to win Grammys for seven consecutive releases.
Tracks
Adagia

Sign of the Season

This Belongs to You

Roofdogs

Cherokee

Genealogy

On Day One

Medley

Come and See

Police People

Two Folk Songs (#1)

Born

KIN

Rise Up

Go Get it