Music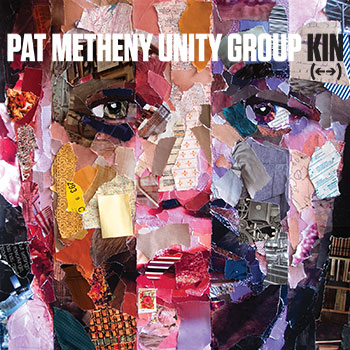 Tracks
On Day One

Rise Up

Adagia

Sign of the Season

Kin (←→)

Born

Genealogy

We Go On

Kqu
2014

Kin (←→)
Label:

Nonesuch
Musicians:

Pat Metheny, Chris Potter, Ben Williams, Antonio Sanchez, Giulio Carmassi

The coming year promises to be equally exciting. As Metheny says: "The Unity Band record and tour was life changing for me, and I really wanted to find a way to keep it going and take it to the next level. One night, I woke up with the tantalizing idea of taking the concept of 'unity' even further. With this next project, I envisioned building a platform capable of addressing the entire spectrum of things I have done over the years, from Bright Size Life to Secret Story, from my Group projects to the Orchestrion, and more, all in one place." He continues: "With this incredible lineup of musicians—Chris Potter, Ben Williams, Antonio Sanchez, and the addition of multi-instrumentalist Giulio Carmassi—just about anything is possible."

With this mission statement, the scene was set for Metheny to deliver a career-encompassing recording. With the release of Kin (←→), Metheny has, not for the first time in his complex and ever-evolving career, re-invented himself.
Tracks
On Day One

Rise Up

Adagia

Sign of the Season

Kin (←→)

Born

Genealogy

We Go On

Kqu
Order CD